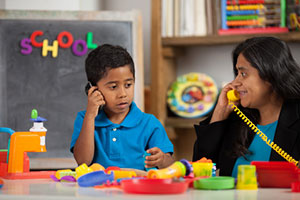 Occupational Therapy (OT) is a treatment that helps individuals of any age and ability perform life and occupational skills. For children with autism and related disabilities this means teaching them age appropriate skills in the areas of fine motor, gross motor, visual motor, visual perceptual, daily living, and sensory regulation. This might include appropriate play skills, handwriting, shoe tying etc.
We have Occupational Therapists (OTs) to provide services to meet your child's needs in the areas of motor skills and sensory regulation. Our OTs will assess your child to see where their areas of needs are and will develop an individualized plan to meet these needs. Our OTs will meet with your child in a 1:1 or small group setting to address these needs.
Contact us today to discuss how Gym-Jam can help you and your child.