The Early Start Denver Model, often referred to by its acronym, ESDM, is a comprehensive behavioral intervention approach.  It is most often used for children between twelve months though forty-eight months of age.
Using ESDM as an Early Intervention Tool
According to the Center for Disease Control (CDC), screening for developmental delays should occur at nine, 18 and 24 months. If red flags are seen during the screening, further examination is warranted.  In addition, the CDC recommends specific autism spectrum disorder (ASD) screenings at 18 months and 24 months. The ability to diagnose ASD at younger ages than ever before means treatment can begin at an earlier age, which is key targeting the most positive outcome.
ESDM and Autism
A widely accepted early intervention tool for ASD is the Early Start Denver Model (ESDM). Developed in the 1980s, this intervention method is typically used for children 12-48 months of age. Research has shown that children who receive ESDM intervention for two years, often show significant improvement in IQ and adaptive behavior. One such study documented an average IQ score increase of 17.6 points.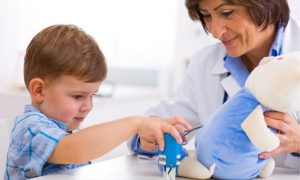 1Children who receive ESDM treatment typically have a significant increase in IQ.
How ESDM is Done
Parents of children receiving ESDM are trained in how to continue treatment steps at home. This provides the child with many hours of therapy, including weekends and holidays in addition to the time working with the professionals each weekday.
The curriculum in ESDM provides intervention and with consistency both at home and at the professional center the goal is to reduce the impact that ASD has on each child. In some cases, children who received an autism diagnosis before receiving two years of ESDM intervention are later moved to a pervasive developmental disorder, non-specified, which is typically less severe than autism.
Curriculum is structured to meet specific behavior and learned skills at specific time frames. With one-on-one clinical providers and parents practicing those skills at home, the child is immersed in constant behavior modification encouragement.
While the curriculum is structured to target skill sets at specific times, each curriculum is tailored to the individual child and that child's family.  Parents are asked what skills and goals are important to them for their child to attain. The parents are considered a valuable part of the team and their input is valued. Once a treatment plan is established, treatment methods are designed that can be implemented both in a clinical setting or at the child's home, or a combination of the two, whichever works best for the child and child's family. Treatment can also be conducted in a preschool, alongside typically developing students.
The number of hours needed can vary, but the average for each child is 20 total hours a week for two years.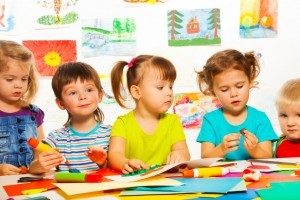 2Social skills are an important component of ESDM treatment.
Things ESDM Focuses On
Important factors that are keys to treatment success include:
Parents being deeply involved in the process
A focus on positive interpersonal exchanges
Teaching the child how to have positive, effect-based language and communication skills
Joint activities in which the child learns to share in those experiences with others
The foundation of these lessons is based in the child's everyday life, such as meal time, play time, getting dressed or other regular daily activities.
With an emphasis on being able to communicate, use facial expressions, share ideas and communicate with others, ESDM has been highly successful for many children with an ASD diagnosis.